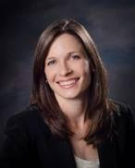 Anne E. Dello-Iacono, Esq. 
Mrs. Dello-Iacono is a founding Partner, and heads the elder law department. Mrs. Dello-Iacono handles all aspects of end-of-life care and counseling, including but not limited to estate and medicaid planning and application, as well as probate matters.
Prior to founding the firm, Mrs. Dello-Iacono was a senior associate at Makofsky & Associates, P.C., f/k/a Raskin and Makofsky, L.L.P, where her responsibilities included client intake and counseling, will and trust drafting, medicaid planning and application preparation.
Mrs. Dello-Iacono began her career working in Michigan representing education institutions in various contractual disputes. Upon relocating to New York, Mrs. Dello-Iacono's focus shifted to planning, working for a solo tax practitioner and ultimately focusing on elder law issues.
Mrs. Dello-Iacono's passion for caring for the elderly, and helping families is readily apparent. Her experience has allowed her to develop a deep understanding of the law within this increasingly difficult field. Elder care law begins with end-of-life planning and ends with the probate and distribution of assets. Mrs. Dello-Iacono is uniquely qualified to help ensure your family is well advised during that entire period of time.
For more information, you can contact Anne at: [email protected].